Recognising The Remarkable
The Longford Prize celebrates the achievements of individuals, groups and organisations working in the field of prison reform.  It is awarded annually by the Longford Trust from nominations made by the public, and recognises qualities of humanity, courage, persistence and originality.  It is worth £5,000 and those honoured receive their awards (pictured above and designed by former Longford Scholar, Ben Levings) at the annual Longford Lecture.  Past winners include: Circles UK, The Clink, Inquest, Prisoners' Abroad and HMP Grendon.
---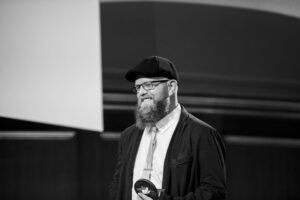 Prize Winners 2022
Joint winners were Koestler Arts and Brendan Ross of St Giles Trust (right). In their citation, the judges hailed Ross's "leadership of the St Giles' Trust Peer Circles Project". Of Koestler Arts, they said it "makes a vital human connection between prisoners and the public." CEO Sally Taylor (below right) collected the award. Full citations
---
Judging Panel
The judging panel is chaired by our trustee, former prison governor John Podmore, and includes representatives of the Prison Reform Trust and New Bridge, as well as writer and commentator Mary Riddell and academic Jason Warr.
---
An annual award to outstanding individuals and groups
Prize money of £5,000
Judged by a distinguished panel
Presented on stage at the Longford Lecture