You Start The Process
The 2023 Longford Prize will be presented at our annual Longford Lecture in November. To have a say in the result, write a short (maximum 1000 word) but persuasive description of why the individual, group or organisation is suitable to follow Christopher Stacey of Unlock (above) as a winner of the Longford Prize. Include details of scale, of geographical spread, and of rates of successful outcomes. All nominees must having been worked in the field of prison reform in 2023. Nominations for the 2023 Prize must arrive by October 21, 2023 at office@longfordtrust.org or by post to Longford Trust, PO Box 72887, London N2 2FG.
---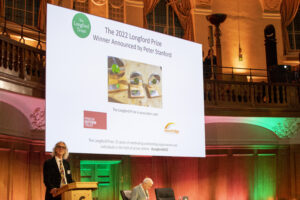 Additional Endorsements
Nominations work best when endorsed by at least two (but no more than five) individuals or groups who can testify from personal experience to the contribution of the nominee. These endorsements should take the form of a short (one page) covering note, attached to the nomination.
---
The Presentation
The winner will be presented with their prize at the annual Longford Lecture just before the main speech (like The Shakespeare Trilogy, 2016 winners, right).  The awarding of the prize often attracts public and media attention to those honoured. When necessary, the trust covers travel costs for winners to attend the lecture.
---
"This honour has bought us much joy and pride. This kind of recognition can make a big difference in a tough recruitment market and crowded campaigning space. Similarly, in fundraising the fact that our work has been recognised like this is important in making the case for vital funding for our service and campaigns."

Dr Kate Parradine, CEO of Women in Prison, 2021 prize winners