You Start The Process
Write a short (maximum 1000 word) but persuasive description of why the individual, group or organisation is suitable to follow Christopher Stacey of Unlock (pictured above) as a winner of the Longford Prize. All nominees must having been working in the field of prison reform at some stage during the 12 months before the final deadline for entries. All nominations for the 2019 Prize must arrive with us by Friday October 25. Either email to office@longfordtrust.org or post to Longford Trust, PO Box 64302, London NW6 9JP.
---
Additional Endorsements
Nominations work best when endorsed by at least two individuals or groups who can testify from personal experience to the contribution of the nominee. These endorsements should take the form of a short (one page) covering note, attached to the nomination.
---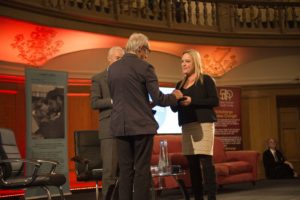 The Presentation
The winners will be presented with their prizes at the annual Longford Lecture just before the main speech. The awarding of the prize often attracts public and media attention to the work of the individual, group or organisation honoured. When necessary, the trust covers travel costs for winners.
---
"It has been a massive boost to be recognised in this way. The effect on morale has been tremendous and it has had a beneficial effect on our fund-raising as well as raising our credibility." 

Pauline Crowe, CEO of Prisoners Abroad, 2007 prize winners